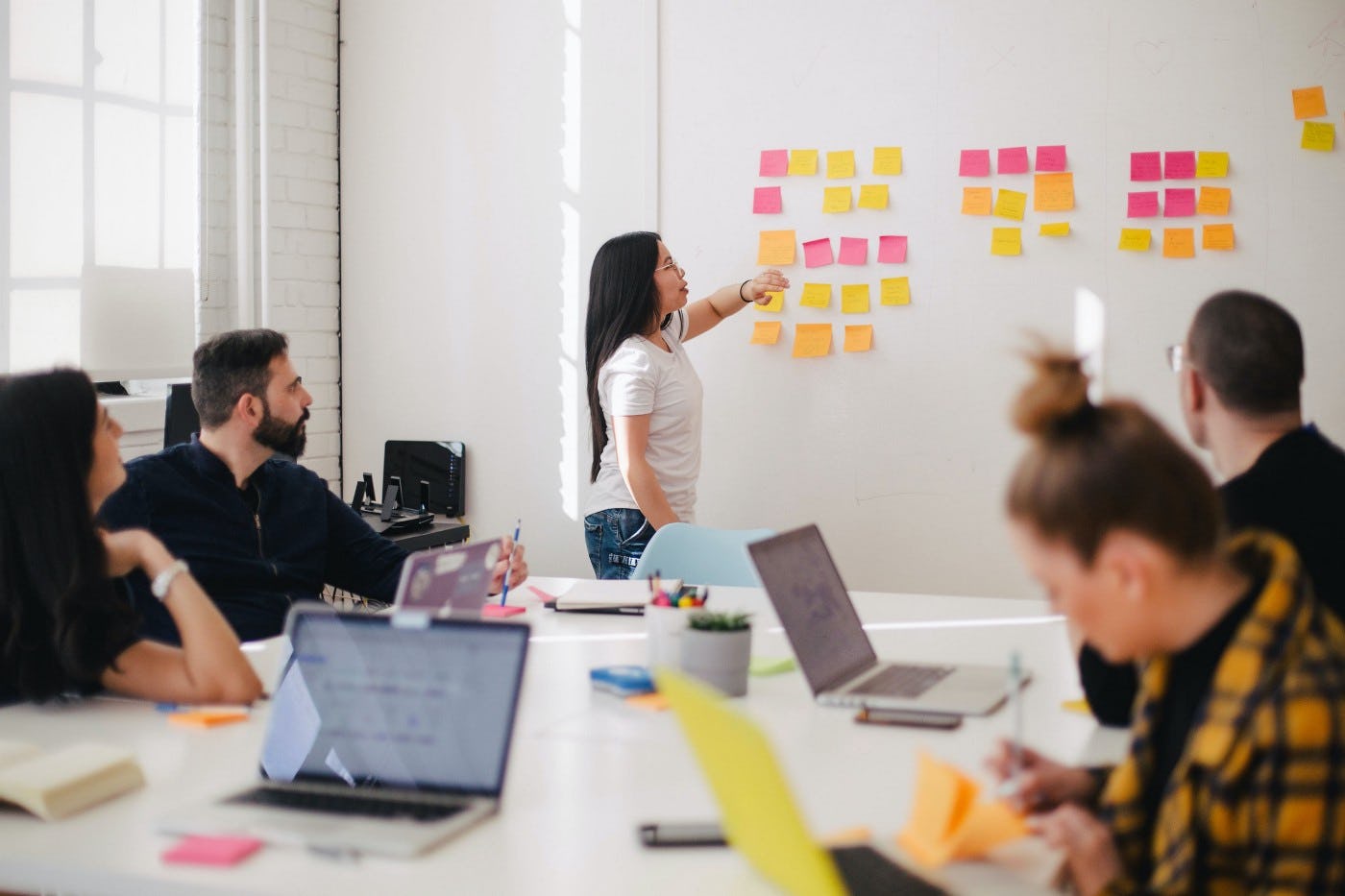 Meet Juliana Wang

From freelance illustrator to UX/UI designer.

After completing studies in graphic design and fine art, Juliana Wang was a freelance illustrator for many years, contributing to editorial publications for international clients including national newspapers and consumer magazines. At weekends, Juliana was also an art tutor, leading weekly sessions teaching art and drawing to young students in conjunction with her freelance work.
Hoping to work in a more fast-paced, challenging environment where she could have more stability and focus on 'design for good', she made the move from illustrator to graphic designer. This was her first step towards changing careers to become a UX/UI designer.
In this interview, Juliana tells us about her upskilling journey of studying and combining courses during evenings and weekends with full-time work. She also emphasises the importance of having people to support you, making compromises where needed, and the importance of investing in yourself to upskill. In addition, she encourages everyone to take advantage of the many free events and classes available which can also help you in your career.
Name: Juliana Wang
Location: London, UK
Current position: UX/UI designer
Previous job: Graphic designer and, before that, freelance illustrator
When did you make the change?
I decided to move from illustration into graphic design for the financial stability. I was looking to take on a full-time position temporarily and had planned to move back to part time to continue my illustration. Opportunities to develop myself in my new role kept coming up, and so I decided to fully invest my time into growing as a designer.
At the same time, I still had opportunities to create illustrations for designs when appropriate for the audience, tone and message. The break from illustration also gave me a fresh perspective on my work and helped me to develop my illustrations further as I became more influenced by the language of design.
I moved onto a UI design role in summer 2018 and moved to my current position, where the role is split between UX and UI, last August, 2019.
What prompted you to make the change?
I wanted to work in a more challenging environment, which would help me to professionally develop myself. I was keen to experience a different environment where the pace is much faster; the organisation smaller and less encumbered by bureaucracies that you often see in larger organisations. I was interested in learning how other teams work in a more agile way, and I had a nagging sense of wanting to understand the impact my designs have on the end-user.
Did you know what you wanted to move into?

I knew I wanted to develop my UI design experience further and delve deeper into the processes of user research and testing to validate problems and ideas. I was curious about the transition from web to product design. When I started looking at jobs it became more and more apparent that I wanted to design for good. When I came across the current company I work for, their goal to remove unconscious bias in hiring and make it fairer was very appealing.
Did you face any obstacles along the way?

My lack of experience in UX design meant I ended up spending a lot of my time in the evenings and weekends learning about design to fill in those knowledge gaps. I toiled away on my website during all my spare hours for a few months. At times it was quite exhausting! But I learnt a lot through the process too, and it's helped me get to where I am today.
What training and support did you receive?
I've taken a few courses on Interaction Design Foundation to build up my UX skills and regularly read a lot on and offline — I've found the blogs by IDEO and Nielsen Norman Group (NN/g) particularly helpful and would recommend Lean UX by Jeff Gothelf and Josh Seiden, The Smarter Screen by Schlomo Benartzi and What Works: Gender Equality by Design by Iris Bohnet. I've attended a few NN/g training conferences and I went to Design Systems London last year — NN/g is always great for packing a lot of helpful and practical content in a short space of time.
I also have two wonderful brothers and a very supportive partner who were always on hand to look at my portfolio with a critical eye and helped me improve my CV and cover letter. Over the years, they've spent a lot of their time going through my work and giving me helpful feedback at every stage of my career. They were fantastic at giving me a boost of encouragement whenever things took longer or weren't heading in the direction I wanted them to go, and my partner took over a lot of cooking and cleaning so I could devote more time towards developing my skills and knowledge too. I'm super lucky to have all their support.
Do you feel like you made the right decision?

Yes! There hasn't been a day go by where I haven't learnt something new. The pace is challenging and at times overwhelming, but I work in an incredible team backed by a positive company culture that is very supportive of wellbeing. We're very big on reflecting on work processes and always looking at what we can improve.
Have you changed as a person since you changed career?

I worked more autonomously in my previous roles and was very independent as a freelance illustrator. My current position involves facilitating many more workshops, either organising, or being involved in more cross-team collaborations.
My company is very big on challenging the status quo of hiring and looking at more effective ways of reducing unconscious bias in hiring. Since joining them I've become a lot more aware of the inequalities in hiring that hurt diversity. It has made me more impassioned to improve equality, particularly for those who don't have big-name employers attached to their CVs and ultimately need to work that much harder to get a foot in the door when job hunting.
Are you using any of the same abilities for both careers?

Design is still a big chunk of what I do, I juggle that with organising and running user research and testing. In both roles as a graphic designer and UX/UI designer, I have to be a good listener and drill down to the core goals for the client or business — there's just a lot more emphasis on making sure we meet user needs now too.
What are your future career goals?

Developing my experience in UX and UI design, helping shape the brand identity through UI design, learning more about animation to bring joy and delight into the experience of using our product.
What advice would you give to someone looking to make a career change?

Be proactive about taking steps towards a career change, particularly if you've been unhappy in your current position for a while. This is not easy for everyone because everyone's position is different.
Accept that you may have to make some compromises to successfully change track and be in a happier place long term — you might need to sacrifice socialising to devote more hours to upskilling, especially if it's hard to do so in your day-to-day job.
Or perhaps (finances permitting) you'll need to invest in resources to gain that knowledge — whether through books, online training etc, but it'll be the building blocks of knowledge and confidence you'll gain in a new area, which in itself is pretty exciting too.
Check out free/low-cost events like Meet Up groups to learn how other people work in the field you're interested in. I've started going to a few and they're not as daunting as I thought they would be. They are very helpful and incredibly inspiring.
We're ready when you are.
Get started today with a confidential 30 minute coaching session, to see how we could help you.
Not sure coaching is for you?
We'd be happy to answer your questions