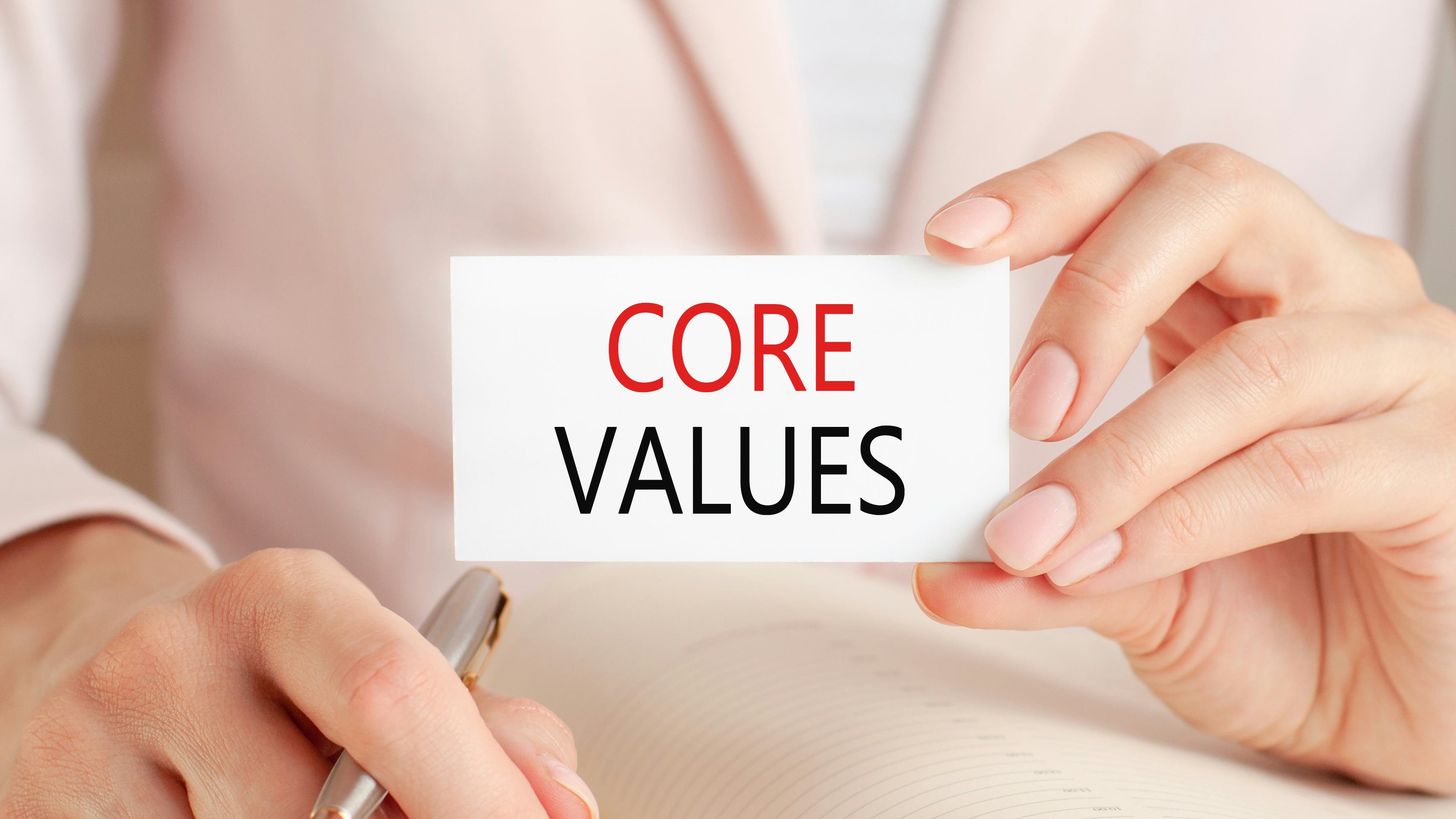 What Are Core Values? And Why Do They Matter?

by Caroline Jones
Values are your core principles – the things that you believe in and which make you happy, whether at home or in the workplace. Values are all the things that motivate you and that make work enjoyable. They are what is important to you – but they can also change as you progress through life and work, especially as your personal circumstances change.
That is why it is important to check in with yourself every so often to ask: "If I could choose my perfect life, how would I live and what would I want from work?"
Asking yourself these questions will help you to start to identify your Values and to think about whether you are living them. If not, what could you do to alter this?
Quite often people disclose their Values without even realising. For example:
Money – "I need to pay rent/mortgage/bills..."
Moral Duty – "I enjoy work where I can be brave and have integrity." (Such as the fire brigade/police/armed forces.)
Cultural – "I joined the family business." (Such as farming/electricians/retail etc.)
Purpose – "I enjoy working with people/animals.)
Work values – "I will work hard and would like to be rewarded by my employer for this loyalty."
For some people, it's easier to think about what they don't want from work – and to then turn it on its head – in order to identify their Values. Examples include:
"I don't want to work evenings and weekends" (meaning, "I prefer to work Monday to Friday, 9am-5pm," or
"I don't want to work in an environment with no training or advancement" (meaning, "On-going learning and a clear promotion pathway is important to me."
Common Values
To help you think about your Values and what is important to you, here are some of the most common Values that people relate to:
Curious or Passionate – Is it important to you that the career/role you are undertaking genuinely interests you? Would you take a book/magazine to bed to read more about the subject/sector?
Training – Do you require the company to have training courses set up for this role?
Entrepreneurial – Do you want a role where you will be taking risks, where your voice can be heard?
What is the environment like at work? – Are you looking for a social life with your work team?
Technical expertise – Do you enjoy being an expert in the field?
Dedication to a cause – Do you need a role with meaning/purpose where you are helping people, animals or a movement?
Using your Values in an interview situation to see if the role is right for you:
Most people have around five key Values. When you have identified your own personal Values, remember that you can use them to your advantage in interview situations to really establish whether the culture within an organisation fits with what is important to you. During the interview, you can check if the role would require you to work weekends or evenings, or you can ask about things such as training if that is what is important to you.
Building your Value Statement
Before you start looking for a new role, it could be helpful to build your own Value Statement to use when identifying jobs and companies that fit with your own preferences. View your Value Statement like packing a suitcase – what are your 'essentials', and what would you 'like' to take with you on your career journey?
To help you build your own Value Statement, consider the following:
What does my ideal role look like? (What is the purpose, the main task, responsibilities and what achievements would I like to gain?)
What industry/sector would it be in?
What are my key Values that I can share with the organisation? (Such as working hard, helping people?)
What career growth opportunities are there?
Salary? (What do I need to earn and what would I like to earn?)
How far am I prepared to travel?
What is my ideal company type? (Prefer multinational, family business, employing 500 people, or a smaller team of 10?)
Use your Value Statement as a guide when exploring your career options, making applications, attending interview, and as you progress through your job. Good luck!
We're ready when you are.
Get started today with a confidential 30 minute coaching session, to see how we could help you.
Not sure coaching is for you?
We'd be happy to answer your questions