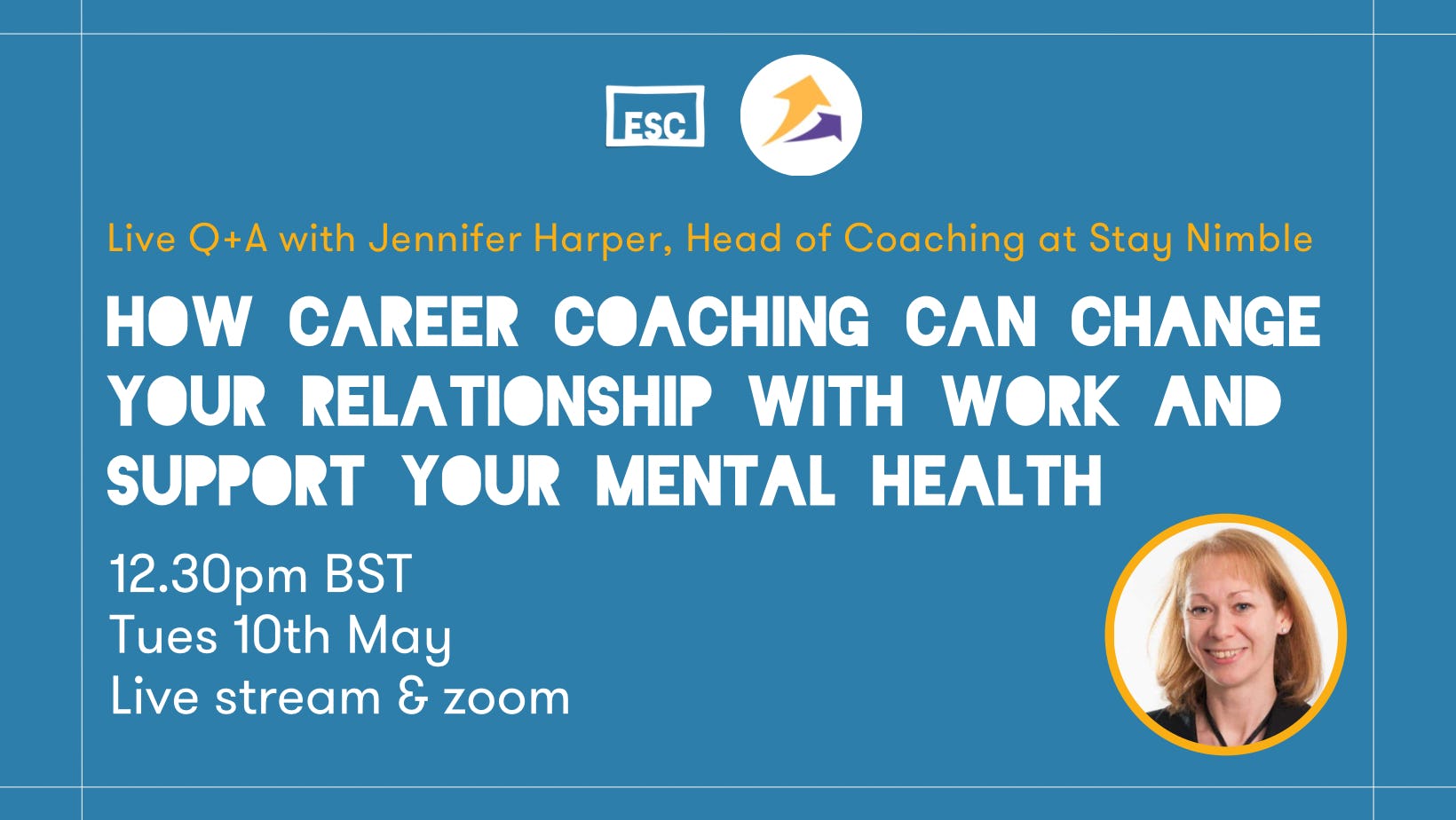 How Career Coaching Can Change Your Relationship With Work And Support Your Mental Health.

by Jennifer Harper
With Mental Health Awareness Week running from 9th - 13th May, we partnered with Escape the City to help job seekers and career changers explore how career coaching can change your relationship with work and support your mental health.
You can find the recording here:
In this written article about the live event that took place on 10th May, we explore the different aspects of career development that are impacted by mental health challenges, and how coaching can support people through their careers.
1. Tell me a bit about Stay Nimble and the work you do there.


Stay Nimble is a social enterprise that provides online tools to support people in work, but importantly it is into work that aligns with their personal skills, strengths and values, and ultimately work that is meaningful to them. In addition to these tools, we provide one-to-one career coaching, so everyone who joins Stay Nimble is assigned their own coach who they can then build a one-to-one working relationship with. I think it's important to mention that we don't just work with people looking to change jobs or careers, but with lots of people who are quite happy working with their current employer and doing their job, but who may want to explore how they can take their next steps and progress.
I head up the team of Career Coaches, all of whom are qualified career guidance practitioners - we adhere to the Career Development Institute code of ethics and we have a duty of care towards our clients. As part of that, all of our work is confidential and is completely person-centred. In addition, all of our Career Coaches are Mental Health First Aid trained, so you could say that we take a holistic approach to you and your work. In general, what is happening in our personal life can impact our working life and our working life can impact our personal lives - so we take a truly holistic approach, get everything out onto the table to see what we are working with, and then we support you to start to work out what you want out of all aspects of your life, the steps you would like to take, and how you can achieve that.
2. You've mentioned the holistic approach you take at Stay Nimble. It would be great to hear about how mental health support and career development intersect.
I think it's important to acknowledge that we all have mental health, so it's something that every one of us needs to regularly check-in with ourselves on. It's the old question of 'how are you?' followed by 'how are you really?'
So our mental health can present in many different ways throughout our career, it's not something that is restricted to any age group, or gender, and it can present at any time.
A very common example is where people feel extreme anxiety over public speaking, or giving presentations. There are so many jobs now that require an element of presentation work, but it can be a major source of anxiety - and when anxiety creeps in, it is very real and can be extremely debilitating. In these instances we have worked with clients on their preparation, we have done practice sessions with them, and identified steps they need to take to feel in control (which can include simple things like breathing exercises).
A slightly more complex example of mental health and career development intersecting is another client who insisted that they needed to change jobs as they were becoming more and more stressed at work and dreaded going in. The Coach worked through how long they had worked there, the tasks they undertook, their relationship with colleagues, and the person seemed quite happy with all of that. It wasn't until the Coach delved deeper into the environment in which they were working that the root cause of their stress and anxiety started to emerge. Their desk was close to a door which had a broken catch, so it constantly banged when people went through. This didn't seem to bother others, but the constant banging of the door was a trigger to this particular person's stress and anxiety as they had been brought up in a household that had previously experienced domestic violence. So they were constantly being reminded of that adverse experience at work, and it was little wonder their anxiety had increased dramatically. Once this connection was recognised and understood, the person was able to approach their boss, the door was fixed and their desk was also moved to a quieter location in the office to try to prevent any other triggers. Another positive from this situation is that it opened up the mental health conversation in the office, which resulted in a better working environment all round. The turnaround was quite dramatic for this person who had initially insisted they needed to change job, when in reality small changes were required to make the working environment a more positive and understanding place to be, which had the ultimate effect of improving their mental health and enabling them to enjoy their work again.
3. What are the main challenges you're seeing with helping people to make progress?
There are many challenges that we all face - whether these are societal issues, or personal ones. There is a lot of pressure on people in general, whether that is simply to pay the bills, to maintain a lifestyle, or to be seen to be achieving. There can be peer pressure too, which can be exacerbated by social media. In addition to this, we have all lived through the impact of the Covid-19 pandemic.
Unfortunately, all of this combined can result in multiple challenges when it comes to establishing your career, particularly being able to visualise yourself in a particular job, or working environment. Overall, I would say the four key challenges are confidence, mindset, competing demands and stress.
A lack of confidence, even in people who on the face of it would appear to be very confident, can be a real blocker. It can be that little voice inside our head that can make us doubt ourselves and hold us back. Though I have also worked with people who have done the same job for many years, been made redundant and suddenly this very competent person loses their confidence and can't see a way forward because they've changed working environment. That can then impact their motivation - some may even experience depression.
The lack of confidence can also link to the mindset. Many people adopt an 'I can't do that' mindset, which can hold them back not just from taking a job, but sometimes from even applying for it in the first place - it's a case of 'I can't do that, so I won't apply', when the reality may be very different. In this instance, we as careers advisers, and using the Stay Nimble resources, work to help you uncover your strengths and skills so you recognise your achievements and how you can apply them in many different roles. Adding to that mindset, is the ability to look forward in your career and to understand that you can build your skillset as you go through self-development and career development.
This further links to another challenge which is the competing demands that we experience, whether that is in the job that you do (which can be a prioritising issue, or difficulty saying 'no'), or in your personal life, or a combination of the two. This can all result in stress, which is another major challenge. And, here, we do things like look at your 'stress container' which we all have. This is where we look at all the everyday things that are causing you stress and anxiety right now. We then look at coping methods which can work like a tap to release some of the stresses. But the important part is adopting healthy coping strategies that aren't going to cause other adverse issues, such as burnout.
4. What would be the typical first step for someone struggling with a lack of confidence and anxiety to begin looking at their work situation?
So to start with we would chat about when they started to lose confidence, or when anxiety crept in (which might for example be in work meetings, before a job interview, or it might be when they got a new boss). We then look at how that anxiety presents itself (what is the physical impact or thought process they go through). It's really important to understand what anxiety or loss of confidence looks like for that person, as it will be different for everyone.
Once the client and the Coach have a better understanding of the causes and the impacts, the Coach would then suggest some introspection work. We have created many reflective activities as part of the Stay Nimble programmes that we ask our clients to complete and they then work through those with their Coach to help them gain clarity. Much of this requires a good degree of reflection, so it's not an easy process for everyone, but it can be extremely rewarding and actually quite life changing in some instances.
Working in this way with the Coach means that triggers can be identified. This allows the conversation to open up with regard to what you would like to change, and how you are going to do that. It might be that the client and Coach identify baby steps that are realistic and manageable for them to take, rather than big bold changes that may result in greater loss of confidence or anxiety. Baby steps could include things like small changes to your daily routine, putting yourself forward for a task in work, or re-working your diary so your day has more structure. But, building confidence and being aware of who you are, especially in the workplace, can take time. It's really important to stress that, as Coaches, we are not there to tell you what to do, but we are there to support you to identify ways that you can help yourself to maintain and build your confidence, and manage anxiety - not just today, but tomorrow, next week and next year.
5. When it comes to stressful activities like interviews, how can people with common mental health problems approach these effectively?
One of the big supports we offer that really helps people to manage stressful activities like interviews is doing mock interviews with their Coach. We try to take the fear out of the interview by creating a practice session which allows you to be aware of how you are answering questions, the pace at which you are talking, and the language you are using. Practising in a safe environment can be a real game changer in terms of removing some of the stress - it means by the time you get into the interview, you have answered similar questions several times, so it's less daunting.
But before we even get to that mock interview stage, you will have identified your strengths, skills and values and will be clearer on what you have achieved, what you enjoy and what you can bring to an organisation, which also makes it easier to talk about yourself in these difficult situations.
Often, when we are experiencing mental health issues, we struggle to see anything positive about ourselves. That's why many of the reflective exercises we go through with clients are supporting them to identify times when they achieved something positive which they can then take into an interview. An example might be someone who has volunteered at a foodbank. They might not think they have achieved much by doing that, but in reality they will have been using their communication and organisational skills, they may have been multi-tasking and working as part of a team.
Everyone does things without thinking too much about it, but we work with you to recognise the contribution you are making, and support you to be able to talk about it when required, but also to continue to build on that as you progress through your career.
We're ready when you are.
Get started today with a confidential 30 minute coaching session, to see how we could help you.
Not sure coaching is for you?
We'd be happy to answer your questions